JOSE REQUENA - Clarinetist
Welcome to my Home Page
I Was born in Margarita, Venezuela, where began my musical studies under the guide of my father at the age of 10 and took privately lesson with the teacher Antonio Cazorla who was the first clarinet player of the wind ensamble in Margarita.
I continued my studies at the school of Music Modesta Bor, where I met the mandolin master Alberto Valderrama Patino, who invited me to join the typical Orchestra of Margarita, where I got a lot experiencies in Venezuela Popular Music.
I entered the Youth Orchestra System of Venezuela as member of the Margarita Symphony Young Orchestra under the baton of the guitarist master Romulo Lazarde.
In Caracas, I took privately lesson with the teacher Pedro Naranjo, who was clarinet player at the Venezuela Symphony and then at the conservatoire Simon Bolivar which belongs to the Youth Orchestra System where I studied clarinet with the teachers: Alfonso Pagliuca, Alfredo Martinez, Valdemar Rodriguez and Mark Friedman. I also took place in master class with Luis Rossi.
I was a member of the Clarinet National Orchestra, under the baton of Eduardo Salazar.
Also Member of the Distrito Federal Symphony Young Orchestra conducting by the famous master Jose Antonio Abreu later Gran Mariscal de Ayacucho Symphony Orchestra under the baton of Rodolfo Saglimbeni..
I was a principal clarinet at the Symphony Orchestra of Venezuela Army , conducting by the professor Rey Cantor.
As a soloist I have given concert in the principal venues in Caracas and also abroad in Paris-France, Hannover-Germany, Sevilla-Spain, Paramaribo-Suriname and around the UK
Passionate for the Venezuela Popular Music , I funded the group Ensamble 4 with the professional player: Carlos Garcia-Guitar, Pedro Mauricio Gonzalez,- Doble bass, Jesus Rengel-mandolin, we made a CD named 'Dulce y Salao', representing Venezuela in many international events.
I have moved to England, where I has took privately clarinet lesson with the British Clarinetist David Campbel, with who I continue my master studies at the Canterbury Christ Church University.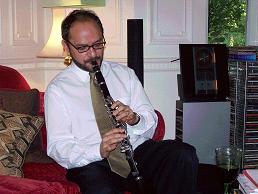 Contact Information
Office: 0207 607 4666
Mobile: 078 8252 0108
E-mail: mr.requena@gmail.com
_______________________________